It's challenging to spend quality time outside December through March, when cold wind, snow, ice, and gray skies dominate the landscape. Hopefully these ideas for winter walks around Rochester will inspire you to step outside for some fresh air and, with any luck, sunshine. Bundle up! It's not so grim and depressing here.
Winter Creek
& River Walks
1. Turning Point
Turning Point Park's most striking feature is a 3,572 ft-long bridge over the Genesee River Turning Basin, part of the greater Genesee Riverway Trail. It's the perfect spot to observe the river's winter wildlife and landscape.
2. Channing Philbrick
As Irondequoit Creek passes through Channing H Philbrick Park, it drops 90 feet over one mile giving us the cascades that make this park so special. The Irondequoit Creek Trail runs through the length of the park.
3. Ellison Park
Take the Indian Landing Trail—a 1.5 mile easy walk over level terrain, full of history—from the location of an old trading post (Fort Schuyler), to the presumed famous Butlers's Rangers hideout.
4. Black Creek
There are several trailheads and several places to park your car at Black Creek Park, one of the largest of Monroe County's 20 parks, second only to Mendon. Both parks are well known for their sledding hills!
5. Corbett's Glen
Park on Glen Road, off Rt. 441, respecting the signs. A two minute walk down the road will take you to the tunnel under railroad tracks where Allen Creek produces its 1st waterfall.
Inland Winter Walks
6. Cumming Nature Center
Winter is a beautiful time of year at Cumming Nature Center. Enjoy 15 miles of groomed ski trails and a 3-mile loop for snowshoeing. Hiking trails are available if there's not enough snow to ski!
7. Genesee Country Village
Stroll around the Genesee Country Village on Sundays starting in January. When there are no special events—for example, Maple Sugar Weekends—the nature center and village streets are open. Check in at the Nature Center first, with a recommended $5 donation.
8. Mendon Ponds
Mendon Ponds Park is the largest Monroe County Park with 2,500 acres of woodlands, ponds, wetlands and glacially created landforms.
Come with plenty of black oil sunflower seeds, especially during winter and early spring when food is scarce—the chickadees and nuthatches along the Birdsong Trail will land right in your hands!
9. Tinker Nature Park
Tinker Nature Park comprises 68-acres in Henrietta with a 1.2 mile flat perimeter trail for jogging, biking, skiing, snowshoeing or walking.
Skis and snowshoes are available to rent in the Nature Center from 9:00am-3:00pm Tuesday through Saturday for $3 a pair when there is significant snow on the ground.
10. Seneca Park Zoo
The Seneca Park Zoo is open all year! And while many animals prefer to stay comfy-cozy inside or in a den, some species, such as polar bears and Amur tigers, enjoy the long, cold Rochester winters.
The Zoo is a great place to go if you feel intimidated walking alone. The paths, as best as they can be, are maintained for walk-ability lessening the risk of falling. The staff is so helpful and there are enough people around to not feel isolated, but not so many as in summertime when it can feel overwhelming.
11. MacKay Wildlife Preserve
They pathways felt natural, like trails the deer had created on their search for food and water; paths of least resistance.
Winter Walks
to Waterfalls
12. Letchworth
Middle Falls is viewable from the landing above at the Glen Iris Inn. You can also walk down from the Inn to see the falls up close or continue on to Upper Falls. The stairway and trail along the river is closed since the mist creates ice-covered surfaces. The road leading down to the Upper Falls parking lot is also closed in wintertime.
13. High Falls
High Falls is both the name of the waterfall and the district where it's located. There are very few cities in America with a city-center waterfall! It takes on a unique personality in winter.
14. Taughannock Falls
A flat trail leads along the creek to the base of the waterfall. Depending on the amount of snow melt or temps below freezing, the canyon presents a unique winter-scape. Watch your step as you approach the base of the fall as it will be icy from mist.
15. Glen Park Falls
Glen Park has a handicap-only parking lot with a direct view of the falls. Down the street is a larger parking lot, and the pathways are paved to walk to the falls.
16. Niagara Falls
Niagara Falls is beautiful year round, and I highly recommend going at different times throughout the year to witness the uniqueness of each season. There are times in the depths of winter, when the temperatures are extremely low for an extended period of time, that the falls appear to be completely frozen. It's a great time to visit!
With less visitors, you'll feel like you have the entire park to yourself, and you'll see a greater frequency of black squirrels that inhabit the area. Head right to Goat Island for the best experience.
Winter Walks Along
the Pinnacle Range
17. Sunken Garden
When you stroll around the back of Warner Castle and down the lawn, you'll discover the Sunken Garden. It's a peaceful retreat anytime of the year.
Behind the garden, you'll find Highland Park Bowl–an outdoor amphitheater used for summertime concerts, Shakespeare in the Bowl, and Movies in the Park. But in the wintertime, it's a great spot for sledding.
18. Highland Park
Highland Park was designed to be enjoyed year-round. Every pathway, every tree, every vista & every relationship between the land & water is intentional. Enjoy winter's quiet serenity among the evergreens.
19. Cobb's Hill
The view from Cobbs Hill, the quiet, the breeze, the friendly nature of people walking and taking it all in—there's nothing else quite like it in Rochester.
20. Mount Hope Cemetery
It may seem odd to think of a cemetery as a family-friendly destination, but Mount Hope Cemetery is as much park-like as it nearby neighbor Highland Park. The shapes and shadows are exaggerated when covered in a blanket of snow.
Unique Winter Landscapes
21. Webster Pier
Frigid temperatures and ferocious winds create wicked art along Lake Ontario. Webster Park pier is just one example, but head toward your favorite spot along the shoreline to observe nature's creativity firsthand.
The nice thing about places like Webster Park, Sodus Point, Oak Orchard Light, and B. Forman Park, to name a few, is that you can observe the lake right from the parking lot from inside your toasty-warm car. Most lake front property is private, or requires a walk to view the lake.
22. Letchworth Ice Volcano
If the temperature has been below freezing for an extended period of time, head for Letchworth! The Glen Iris Inn keeps it's fountain running all year long and tit produces this other-wordly.
Winter Events & Activities
23. Guided First Day Hikes
January 1, 2020
Celebrate the New Year outdoors with a First Day Hike! Each one of these local New York State parks offers a guided hike on January 1st.
24. Women March in Seneca Falls
January 17-19, 2020
An inclusive, non-partisan 3-day event to celebrate the 100th Anniversary of the 19th Amendment. The rally and march with take place on Saturday.
At Trinity Park, 12:30pm; Leader of Ceremonies: Coline Jenkins, Great-great granddaughter of Elizabeth Cady Stanton; Holly Near; Toni Van Pelt; BETTY Featuring the Nationwide " 1@1 Minute" with Alyson Palmer at 1pm. Women March in Seneca Falls STEP-OFF, 1:30pm
25. Polar Plunge: Freezin' for a Reason!
February 9, 2020
Even if you don't take the plunge you have to witness it! The party-like atmosphere on the frozen shore of Lake Ontario is a great way to shake winter's funk.
26. Maple Sugar Season
March 21, 22 and 28,29, 2020
Depending on the date, Maple Weekends fall in either the very end of Winter or very beginning of Spring. Either way, it's still cold outside! This is a sweet way to get outside and wander the maple groves and through the sugar shacks and shops to taste the most delicious New York State harvest.
27. Snow Sports
Snow sports and other outdoor activities around Rochester, NY are a great way to shake the winter doldrums. Exposure to fresh air, exercise, and sunshine are key to staying healthy through the colder months, both physically and mentally.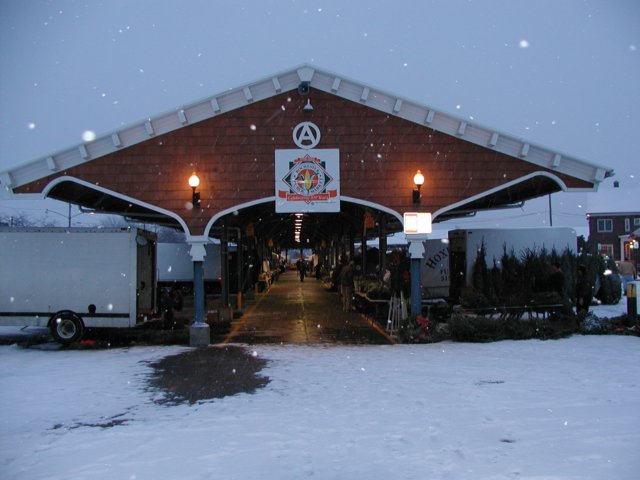 28. Rochester Public Market
Enjoy the Rochester Public Market all year long on Tuesdays, Thursdays and Saturdays. The market, surrounded by coffee shops, restaurants, and vendors, is a unique destination even in wintertime!
Where are your favorite winter walks?
Share your thoughts with us in the comments. Your insight and experience is invaluable!